BLOCKS trades in Atlantis can be identified by their Sub Asset Class and Trading Venue.
Sub Asset Class
Sub Asset Class is present as an external filter and aggregation within the Summary screen. By selecting "BLOCKS", you can easily separate out BLOCKS trades from ETD & USLO trades by using this filter prior to loading the grid.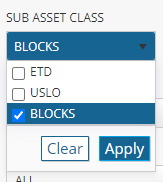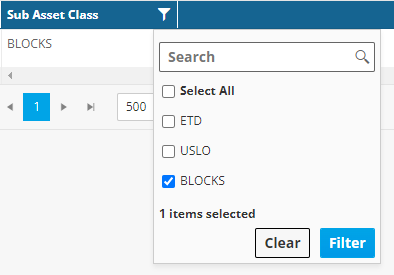 Trading Venue
Trading Venue is an aggregation in Atlantis which displays how a trade was executed.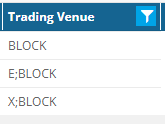 If a trade enters Atlantis from the exchange and has a Sub Asset Class of "BLOCKS" but no Trading Venue is provided, it will be identified as "BLOCK" Trading Venue.
If a BLOCKS trade enters Atlantis and the exchange provides a specific Trading Venue, then the data in Atlantis will display with the relevant Alphabetical prefix + a semi-colon [;]. Example: X;BLOCK or E;BLOCK
NOTE: Trading Venue is available in the Extended Legacy CSV report as well as the Daily Digest. Sub Asset Class is not currently available in either but will be added later in 2023. You can learn more about these reports here.