To log in to the FIA Tech User Hub, perform the following steps:
Enter your User Account Name and Password that were established during the registration process, as shown in Figure 4.
NOTE: You may also log in with your email address in the User Account Name field instead of your assigned User Account Name.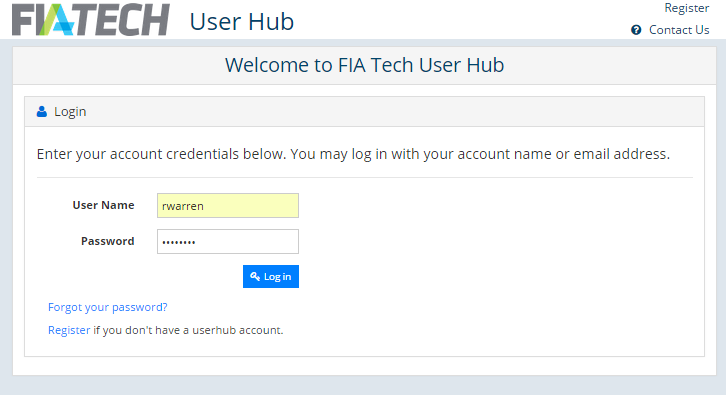 NOTE: If you are unable to log in, verify that your User Name and Password are correct.
CAUTION: Five failed attempts to log in to the FIA Tech User Hub will cause your account to be locked. If you believe your account has been locked, contact FIA Tech for assistance using the contact information in Chapter 11.
After logging in to the FIA Tech User Hub, you will be directed immediately to the OCR Portal and will to review and accept Terms & Conditions for the OCR Application ("Terms & Conditions") for use of the Service prior to accessing the system. See Section 4.1.
NOTE: After you have accepted the Terms & Conditions, you may return to the User Hub at any time from within the OCR Portal. See Section 4.10 and Section 6.13, where access back the User Hub is described.