Associating Clearing Accounts in Atlantis
Background/Issue
For Atlantis to correctly calculate a brokerage fee, the clearing account on the trade must match a clearing account on an existing Docs Give-Up Agreement.  If the clearing account on a trade is not listed on any of the give-up agreements between the parties on the trade, no fee will calculate.  The trade is marked with a Cannot Settle Reason of "Fee Amount Missing" and a Fee Calc Failure Reason of "No Agreement Found". 
Trades with these designations often stagnate in Atlantis for several cycles. With settlement stalled until the Docs Agreement can be updated, large backlogs of unpriced trades can form.
Solution
Atlantis can't settle trades without signed give up agreements, but it can move the affirmation and approval process forward while you wait. The Associate Clearing Account feature allows users to add in provisional clearing accounts to a Docs agreement, enabling calculation and approval to move forward even with a non-executed give up agreement.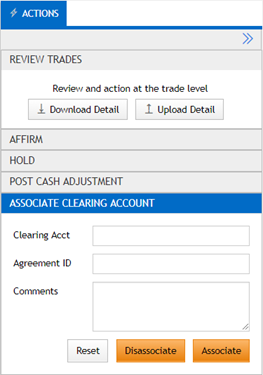 Associate Clearing Account can be found on the summary screen of Atlantis under Actions. A user can add the Clearing Account, Agreement ID, provide comments for context, then click "Associate".
Associating a clearing account to a Docs Agreement serves three purposes:
Matches Atlantis trade to Docs Agreement – Once a clearing account is associated to a Docs Agreement, the trade will match and rate according to the rate schedule of that agreement at the top of the next hour.
Allows Atlantis trade to be Actioned – With a fee now on the trade, Receivers and Payers can take normal actions (affirm, hold, approve, reject) on the trade to push it through the settlement workflow.
Assists in remediation of Docs Agreements – If a user downloads the Give-Up Agreement in Atlantis, the associated clearing account will be listed on it. The broker who associated the account will be listed as the source. This provides Clearing Brokers with a clear, convenient list of accounts that need to be permanently added to their Docs Agreements.

REMEMBER: Trades that match due to associated clearing accounts can be affirmed and approved, but they cannot settle
Even once they have been Approved, trades with Associated Clearing Accounts will have the Cannot Settle Reason, "Pending clearing account addition to agreement by Payer".  In order for trades to actually settle, the Clearing Broker must add the clearing account to a Docs Agreement and the trades will only be ready for settlement once the agreement is fully executed.
Clearing Account Association: Moving Trades Forward
Associating clearing accounts in Atlantis allows firms to move toward settlement for unpriced trades.  Executing brokers are able move trades through the Atlantis workflow while giving clear direction to Clearing Brokers regarding missing clearing accounts on Docs agreements.  This allows Clearing Brokers to have clear instructions on missing accounts and reduces the time it takes to investigate each unpriced trade.  Counterparties who effectively use the Associate Clearing Account feature will increase efficiency and reduce backlog.