Within Docs, Party Admins are responsible for user account management, including the creation of new users, and assigning and updating details and permissions for existing user profiles; as well as selecting e-mail notification settings. Admins are also responsible for approving Visibility Requests. See more detail in the following link: Party Not Found/Visibility Requests.
Adding A New User Profile
To add a new user, first navigate to Docs>Users & Parties>Manage Users.

Within the Manage Users page, select "Add New User"

The only fields required are First Name, Last Name and E-mail, but other information, such as physical address and phone/fax numbers can also be added. This system will automatically create an account name for the user based on a combination of their first & last names. After entering basic contact information for the user, select the "Permissions" tab.
Note: You will not be able to save the user until permissions are added!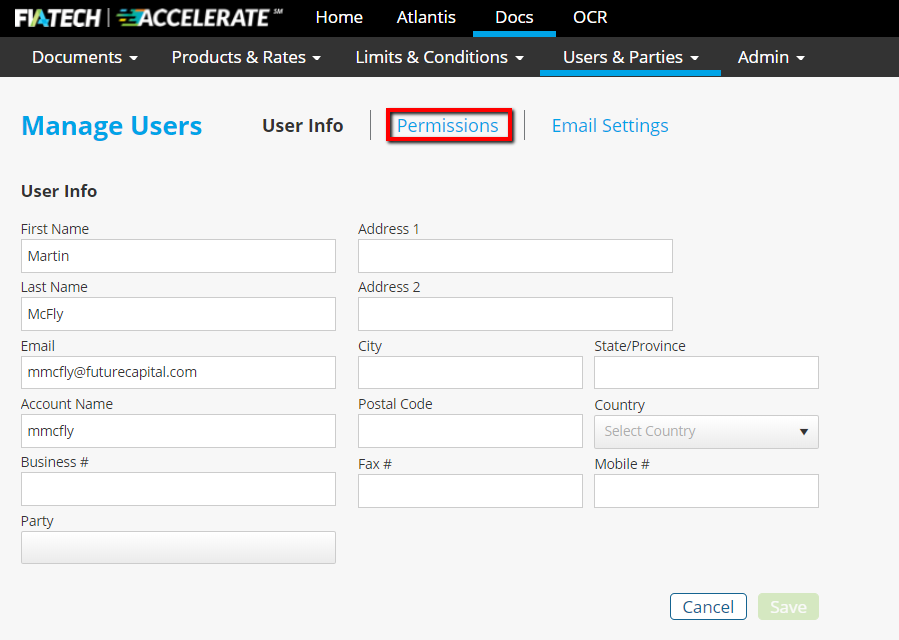 Selecting User Permissions
Within the Permissions tab, first expand the section by clicking on the arrows next to the institution name (listed on top), and then next to the party name to show the different roles the party may operate in. Then, add the desired party and role level permissions for the user, and select "Save".

User Permissions define the actions that a Docs User can perform. Some User Permissions are defined on a party by party basis. Others can be defined for a specific party role.
The grid below shows what each permission entails.
Firms are encouraged to have at least two Administrators permissioned at all times so that Admin actions may be completed if a given Admin is not available or has left the firm.

In the example above, the top level 'FIA Monitor' (the Institution) contains the party FIA Monitor 1 Broker, which has all (4) Party Roles: Customer, Trader, Executing Broker and Clearing Broker. The permission grid shows that this user only has permissions for the Executing and Clearing Broker roles, and not the Customer and Trader roles. The first box to the right of the party shows boxes with a line (-) through them. These boxes indicate that the user has permission for at least one underlying party role.
Selecting Email Settings
Users can have e-mail notifications sent when give-up agreements change status, or require action. User notifications are managed through the "Email Settings" tab, as detailed in the following article. If the user does not intend to receive any system notifications, no email settings are required. Please see the following linked article for more details. Managing User Notifications in Docs
After permissions and email settings have been chosen, select Save. The user account will now be created and the user will receive a verification email from userhub.support@fia-tech.com.
If the user is already in the system but not associated to the Docs application, an error will appear. Please reach out to FIA Tech (Docs.Support@fia-tech.com) for assistance.