Within Docs, Party Admins are responsible for user account management, and are able to create and permission new users, as well as update details and permissions on existing profiles.  
Adding New User Profile
To add a new user, first navigate to the Admin> Manage Users tool.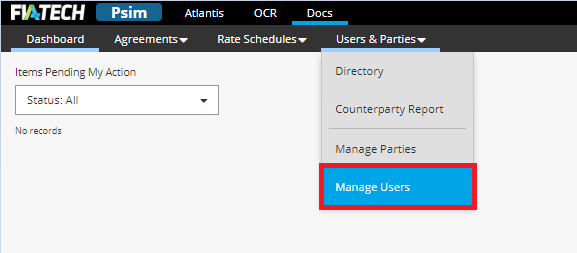 Within the Manage Users page, select "Add New User"

After entering basic contact info for the user, add the relevant Institution name in the "Party" field: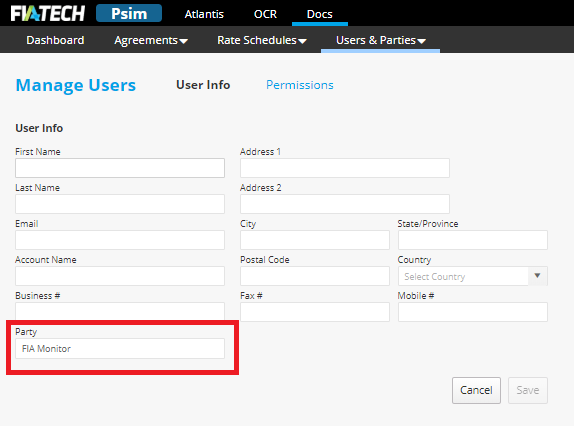 Within the Permissions tab, add the desired Party and role level permissions for the user, and select "Save".

User Permissions
User Permissions define the actions that a Docs User can perform. Some User Permissions are defined on a party by party basis. Others can be defined for a specific party role.

In the example above, the FIA Monitor firm (the Institution) contains the FIA Monitor 1 Broker party, which has two Party Roles: Executing Broker and Clearing Broker.  The permission grid shows that this user is always an Agreement Initiator, however is a Legal Language Composer only when the party is in the Clearing Broker role, and a Legal Language Approver only when the party is in the Executing Broker role. The filled blue boxes indicate that at least one underlying Party or Party Role has that permission.
The "Receive Alerts" permission is found at the party level, immediately to the right of the "Party Admin" permission. Administrators can choose to activate notifications for a user at the party level by selecting the checkbox for that party, or, if the user should receive these notification emails for all parties they have access to, by selecting the checkbox at the Institution level.  Please see below for a breakdown of Docs user permissions.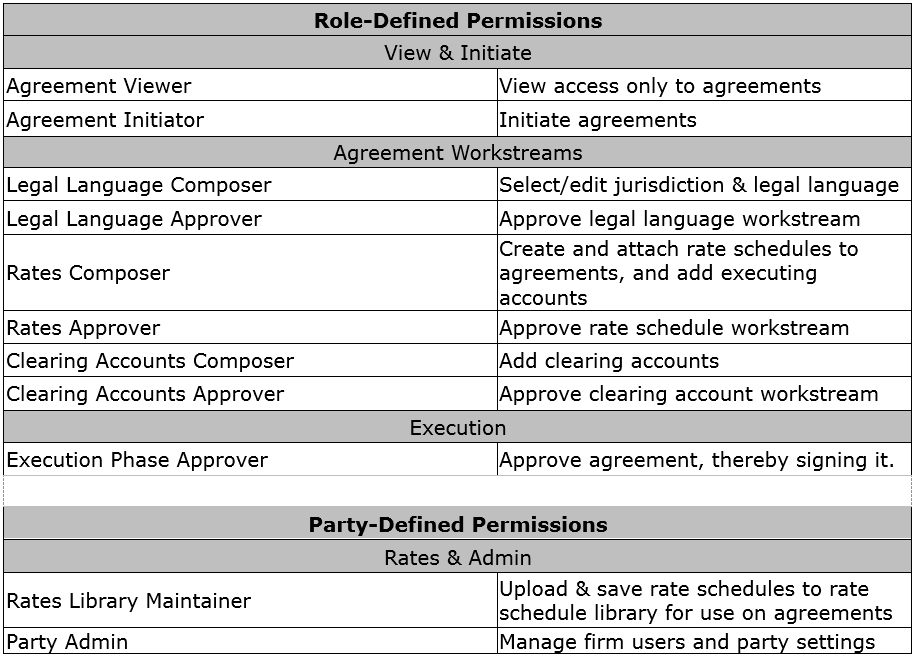 After the permissions have been checked off, select Save.  The user account will now be created and the user will receive a verification email.  If the user is already in the system but not associated with your firm please reach out to FIA Tech (Docs.Support@fia-tech.com) for assistance.