THIS ARTICLE PROVIDES SYSTEM USER GENERAL GUIDANCE ONLY AND DOES NOT CONSTITUTE LEGAL ADVICE OR DEFINITIVE ADVICE OF ANY NATURE.
Overview
The Beneficial Owner CFTC 19-17 Contact is designed to address the requirement of CFTC Letter 19-17 (the "Letter")( https://www.cftc.gov/node/217076 ) which mandates that US FCMs that support separate account margining obtain and maintain current contact information for an authorized representative of the beneficial owner of each separately margined clearing account at the US FCM. CFTC oral guidance is that designation of a representative at the asset manager is not permissible, and that the designated Beneficial Owner CFTC 19-17 Contact should be a natural person at or within the structure of the Beneficial Owner, with sufficient authority to receive and address an FCM's notice that an account of the Beneficial Owner has failed to pay timely margin.
FIA Tech is enhancing its OCR data service to include the ability for user firms to create profiles representing the Beneficial Owner CFTC 19-17 Contact and to associate them with the Beneficial Owner profile. This new profile association feature is expected to be available in the system in July/August 2020, but user firms can get started by creating Natural Person profiles intended to represent the Beneficial Owner CFTC 19-17 Contact now and simply associate them to the owner later.
Adding Natural Person Contacts
To get started on creating Natural Person profiles representing the Beneficial Owner CFTC 19-17 Contact it is recommended to first view what profiles you already manage in the system. Go to myapps.fia-tech.com to login, then go to OCR, Reports, Profile Extract. (A blank template can also be downloaded by going to Profiles, Upload, Excel Template.)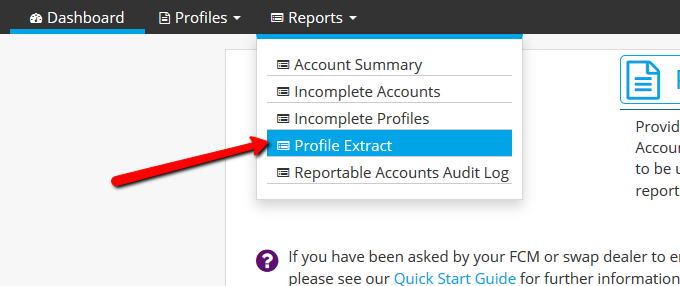 Make sure the drop down reads "Managed by Me", then click "Download Report".

This report will display all the profiles you currently manage in the system.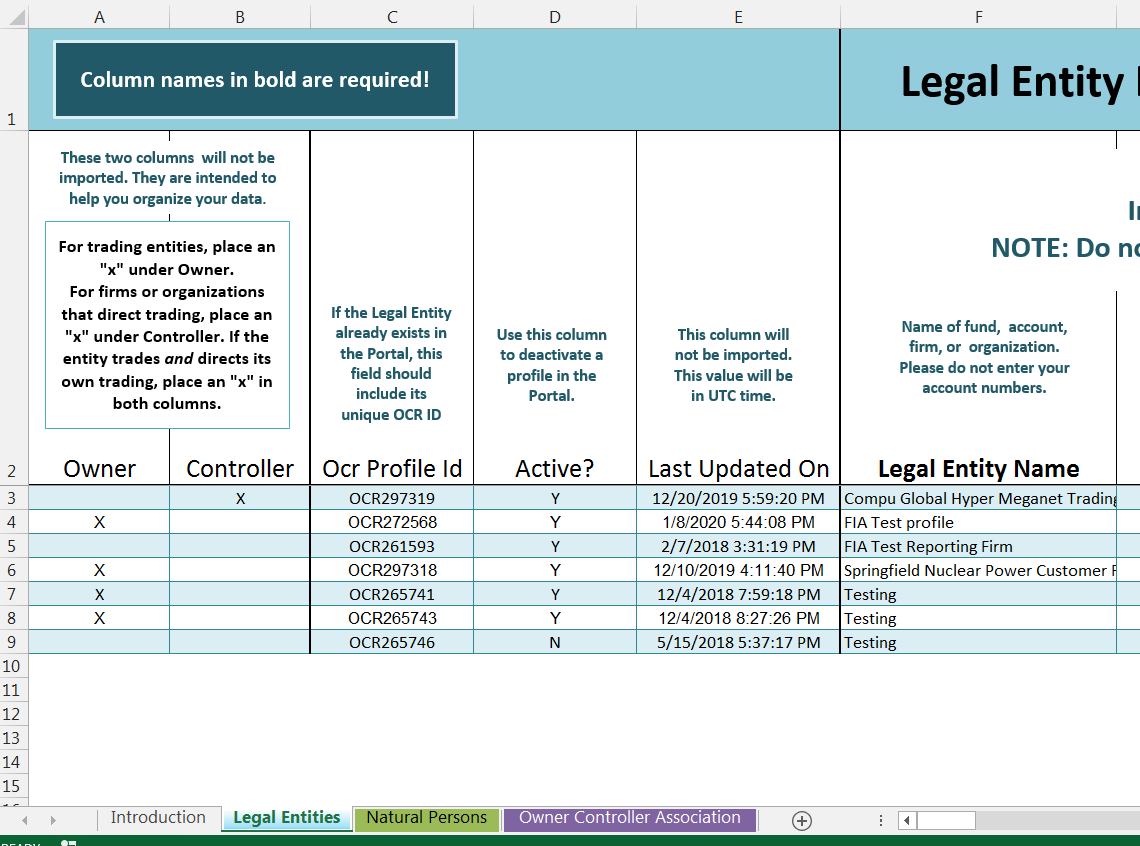 To create new Natural Person profiles in the system click on the Natural Person tab and enter the persons details.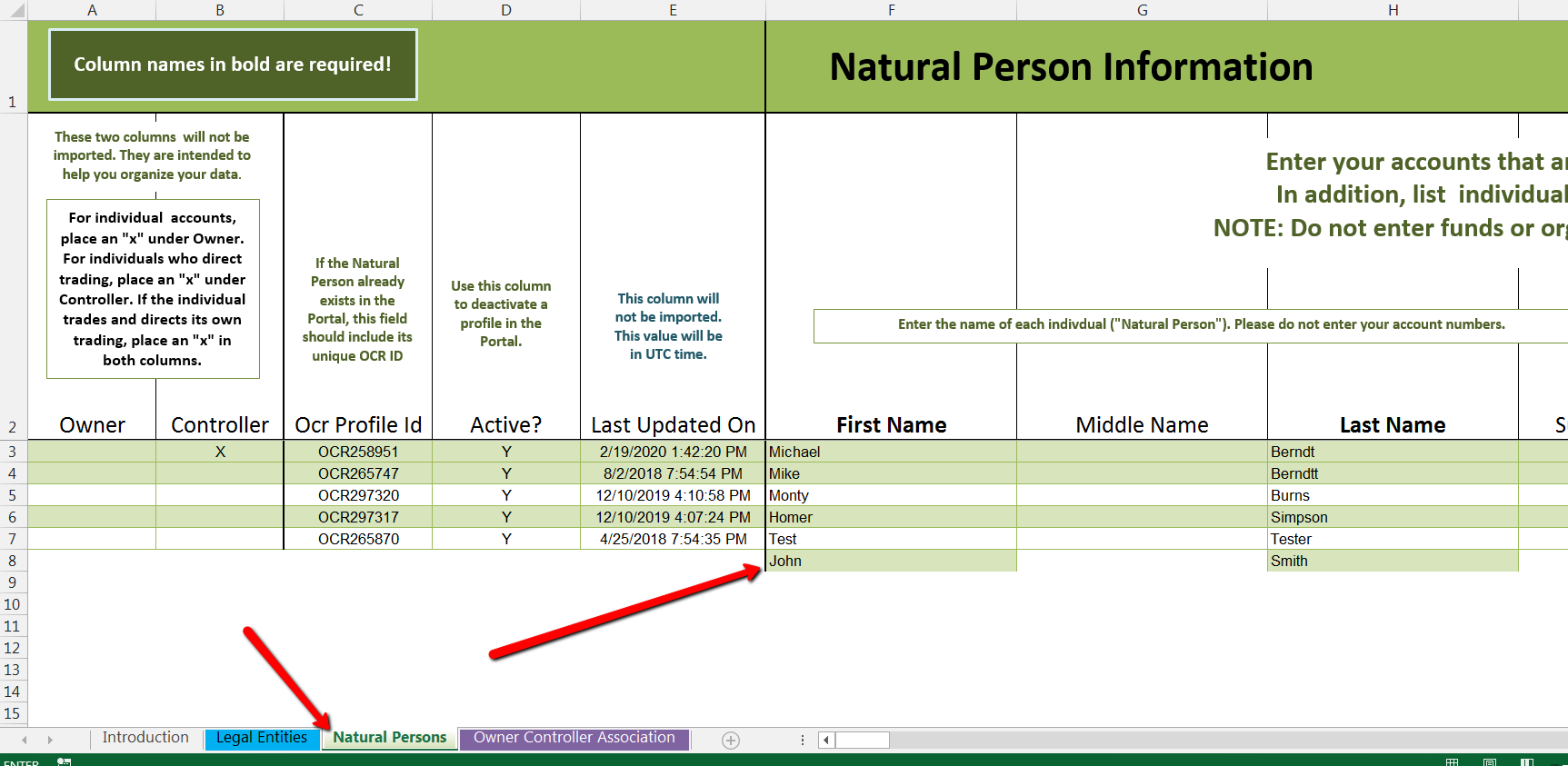 Save the file locally, then go to Profiles, Upload, Select File.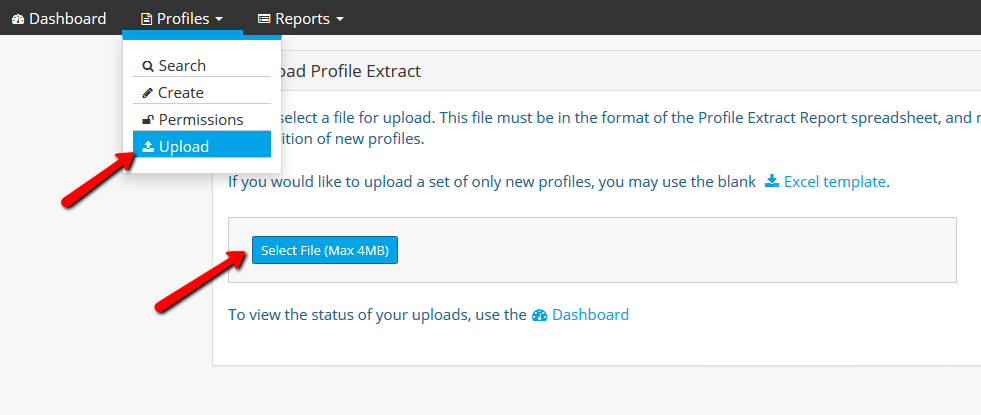 This will create the new Natural Person profile in the system.
Please Note: The ability to associate the Natural Person profile to the Legal Entity profile as the Beneficial Owner CFTC 19-17 Contact is coming soon but does not currently exist in the system. In order to make the association between the Natural Person Beneficial Owner 19-17 Contact profile and the Owner profile at a later date, you will need to keep an offline record of which Natural Person profile IDs should be associated to which Legal Entity IDs.
If you receive any dashboard errors upon upload or have any questions please feel free to contact FIA Tech at 1-202-772-3088 or ocr.support@fia-tech.com .