Overview
As of September 13, 2021, Docs firms subscribing for the Storage feature* will be able to generate rate schedule reports directly within the UI. This report is generated via the 'Reports' dropdown in the Agreement Search page, along with the Clearing Account Report, Executing Account Report and Workstream Report.
Due to potential file size constraints, the Rate Schedule Report only shows the rates for 100 agreements at a time. Different search filters, such as filtering by a specific client or by agreement State, etc. may be used to narrow search results down prior to generating the report. Details on how to run multiple reports to view more than 100 agreements may be found at the end of this article.
* If your firm does not currently subscribe to the Storage feature, please see the following article for more details on how to subscribe and associated costs: Adding a New Docs Party.
Running a Rate Schedule Report
To run a Rate Schedule Report, go to Docs> Documents> Search. Filters may be applied to narrow down the report, such as Agreement State, Agreement Type and specific Party, as shown below.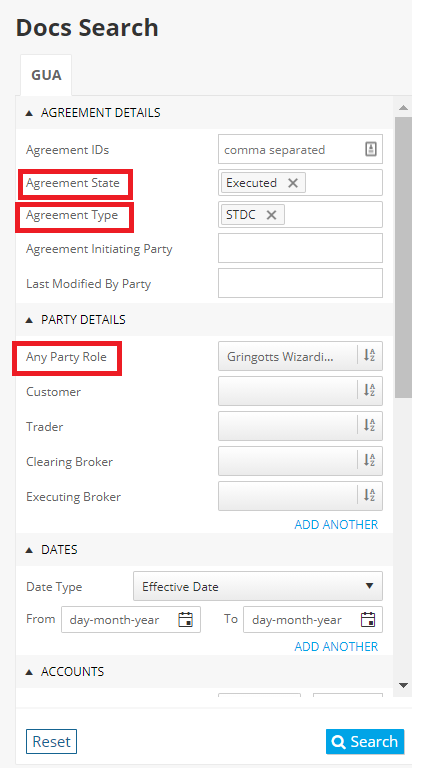 After selecting 'Search' , the basic agreement details will show on the main part of the page, and the 'Reports' dropdown will appear in the upper right corner of the page. Within the dropdown, select 'Rate Schedules' to generate the report.

A pop-up window will appear to show the report has been added to the queue. Once the report has been generated, it will appear in the file folder at the top of the page, and can be downloaded from there.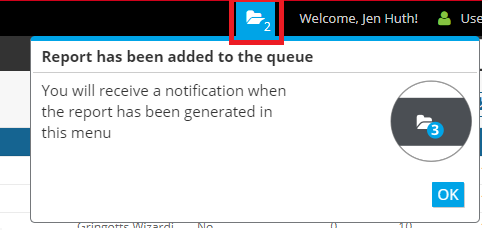 The report will show agreement IDs broken down by rate lines, including Region, Exchange, Product Group, Code, Name and Type, etc.

Running Multiple Rate Schedule Reports
If a Rate Schedule report for more than 100 agreements is needed, a full Agreement Report can be run (Docs Agreement Report) and agreements can be broken into groups of 100. By using the concatenate feature in Excel, each agreement ID will be followed by a comma and can then be copied and pasted into the 'Agreement IDs' field on the Docs Search page. (See steps below)
Insert a blank Column B to the Agreement Report.
Identify the agreement ID that should start the next report.
Enter the formula =CONCATENATE(A2,",") into the blank cell next to the first agreement ID that needs a comma after it.
Drag the formula down to capture the next 100 agreements in the Agreement Report.
Copy each group of 100 agreement IDs with commas and paste them into the 'Agreement IDs' field on the Docs Search page.
Search and repeat as needed.