Overview
As of the 185 Release, the Docs Dashboard, which is accessible via the "Home" tab, will include a new Widget called "Docs Workstreams Status". Similar to the Workstream Status Report on the Docs Search page, this widget will give a snapshot of agreements in composition and will show the status of each workstream.
Please note that the widget will automatically appear within the Dashboard for new Docs users, however, existing Docs users will need to manually Add the Widget to the Dashboard via the "Actions" button on the top right of the Dashboard.

Adding Widget
Upon selecting "Add/Remove Widgets", the user will be presented with the pop-up "Dashboard Widget Selector". Within the pop-up, the new Widget will appear in the Docs "Available Widgets" column on the left of the page. Click the green "+" button to Add it to the "Active Widgets" column, and click "Save".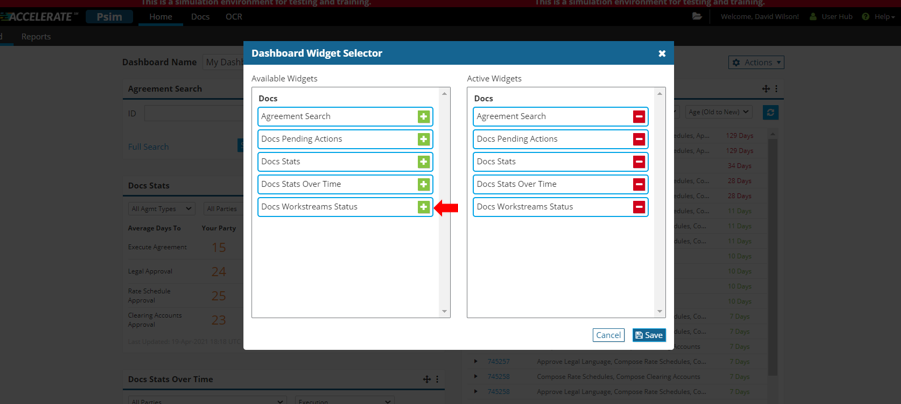 Once the Widget is added via the "Dashboard Widget Selector", it will appear on the Dashboard. To move the Dashboard Widget to another location on the page, click the arrow icon to the left of the 3 dots and drag the Widget to the new location within the page. The 3 dots are available to "Rename", "Copy", and "Remove" the Widget.

Filtering
Within the top section of the Widget, users may Refresh, Search by Agreement ID, and filter by Parties or Roles. This is followed by a status column for each of the workstreams: Legal Language (LL), Rate Schedule (RS), and Clearing Account (CA), as well as the Agreement Age in days since Initiation.
The default for the workstream columns is "A" for All, but each workstream column can be filtered to show all agreements with a specific status, as noted below:
Green check mark = Workstream Approved
Blue circle = Workstream Awaiting Approval
Gray circle = Workstream Awaiting Composition
Red X = Workstream Rejection

In order to see the Workstream Status for all Parties on an individual agreement, click the arrow to the left of the Agreement ID, and the section will expand to show the full view.