At this time, any USLO trades fed directly into Atlantis by the OCC or submitted by a Trade Participant do not automatically calculate brokerage fees against Docs agreements. Functionality has been added in Atlantis to support USLO Rate Cards that can drive automated brokerage calculation against USLO Trades. This article will walk through steps of how to Create a USLO Rate Card in Atlantis.
To download the Rate Card template, Executing Members (Receivers) will login to the Atlantis UI and navigate to the Agreements screen. From here, click "Download USLO Ratecard". This will download the blank excel template directly to your computer.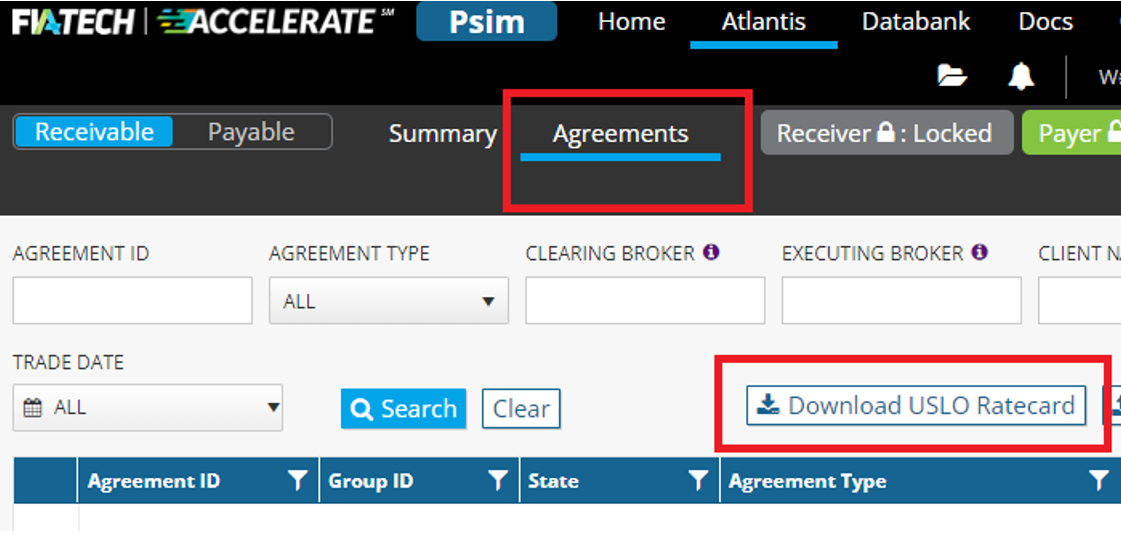 Note: You may need to enable macros in order to fill out the Rate Card template.
There are 3 sheets in the Rate Card template: Document, Accounts, and Rates.
Start in the Document sheet.

Here you will enter details such as the Bill To party, Effective and Termination Dates, and Party Names/IDs. Only the orange fields should be edited by users submitting a rate card.
It is recommended that you ensure the checkboxes for "Show date picker for date cells" and "Show Party Name popup" are selected so that you do not need to manually enter this information, as selections need to be specific and in the correct format.
Fields in Document Sheet
Customer Reference (Optional) - Can be used by a client for an internal client reference or other identifier
Bill To – The party that should be billed for the trades matching to this card. Select from Clearing Broker, Customer, or Trader
Effective Date – The date from which this Rate Card should be considered valid
Termination Date (Optional) - The date which this Rate Card is no longer valid
ExecutionBroker – The Receiving Member of Brokerage Commission on trade
ClearingBroker – The Clearing Member on trade
Trader – The Trader party. You can only add 1 Trader per Rate Card
Customer – Customer party. You can only add 1 Customer per Rate Card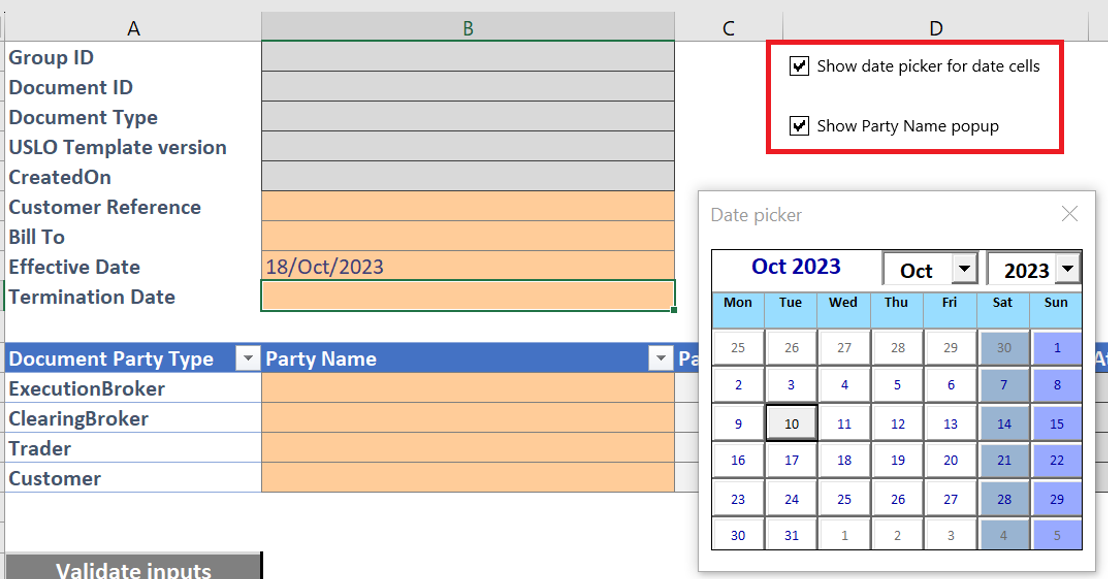 Once you have made all your selections, you can click the "Validate Inputs" button which will run a check that all data is correctly formatted and valid.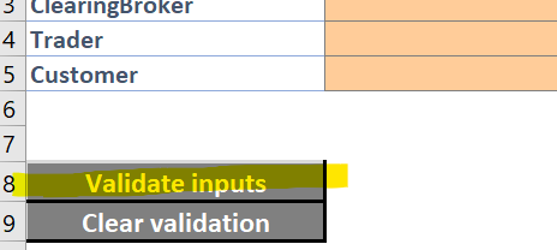 If there are any validation errors, an error pop-up will appear depending on the issue.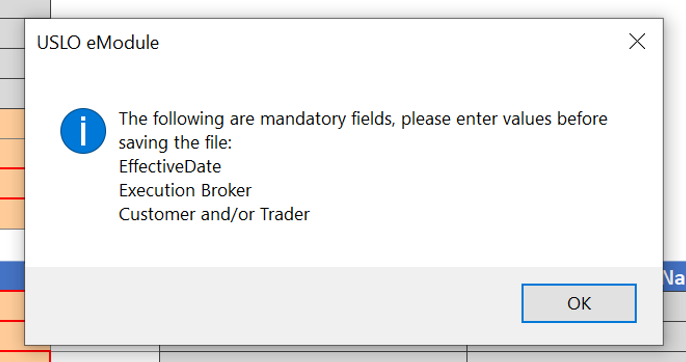 If you choose not to do this step, your inputs will be validated automatically when trying to save the file later. If there are any errors at that point, an error will appear.
Once you have completed the Document sheet, move to the Accounts sheet.

On this sheet, add the relevant Account numbers that should be matched to this Rate Card. Once again, choose your Effective/Termination Dates and the relevant Account Type.
Fields in Accounts sheet
Account – The account number to be matched to this Rate Card
Effective Date – The date which this account number should start matching to this Rate Card
Expiration Date (Optional) – The date which this account number should stop matching to this Rate Card
Account Type – The type of account number provided. Choose from Customer Clearing Account, Actionable ID, or Executing Account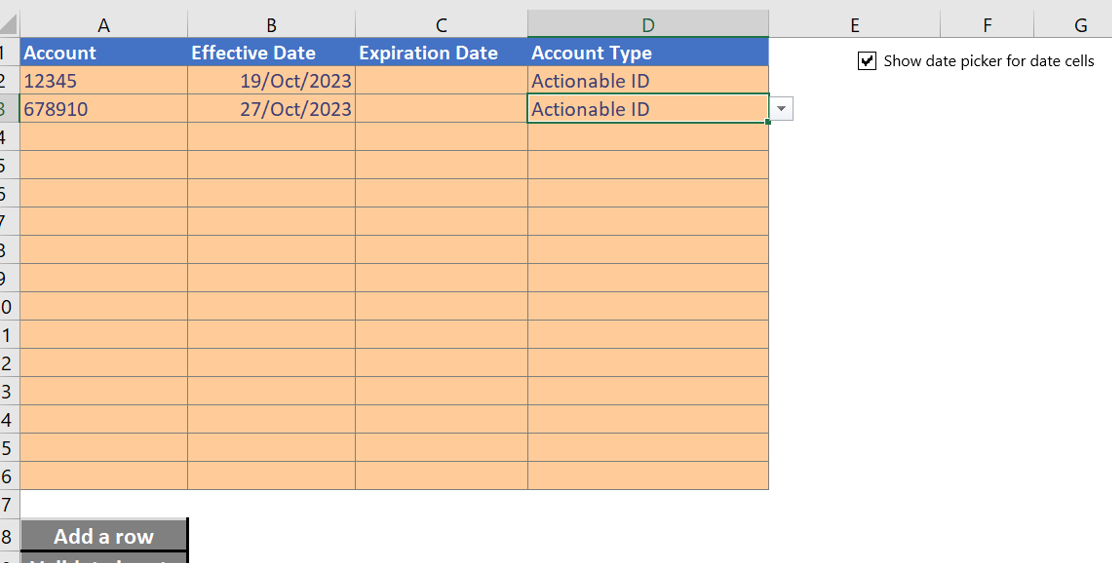 Once you have added all relevant Account numbers, move to the Rates sheet.

Here you will add rows listing Product details and associated rate information. Please note that not all columns are Required for all rows, depending on your selections (some columns are specific to Band type rates, for instance). A field is required when it's highlighted yellow, and this will update dynamically as you make certain selections for that rate row.

NOTE: Selecting "CBOE" as Exchange will encompass all other Exchange codes in the dropdown.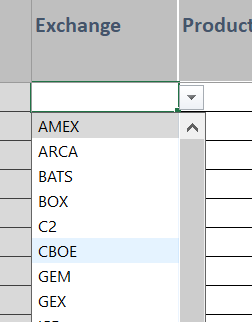 Once completed, Save the updated Rate Card to your computer so that it can be uploaded into Atlantis.
When you are ready to upload the Rate Card, go back to the Atlantis UI > Agreements screen. Directly next to the Download USLO Ratecard button is "Upload USLO Ratecard". Select this option.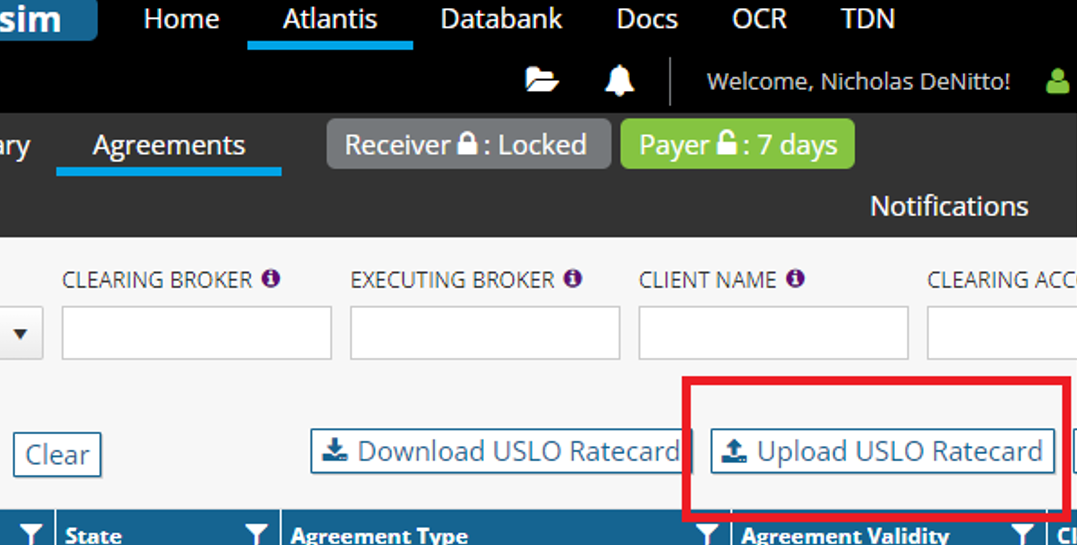 Select your Atlantis Participant Code from the drop-down menu and then "Select File".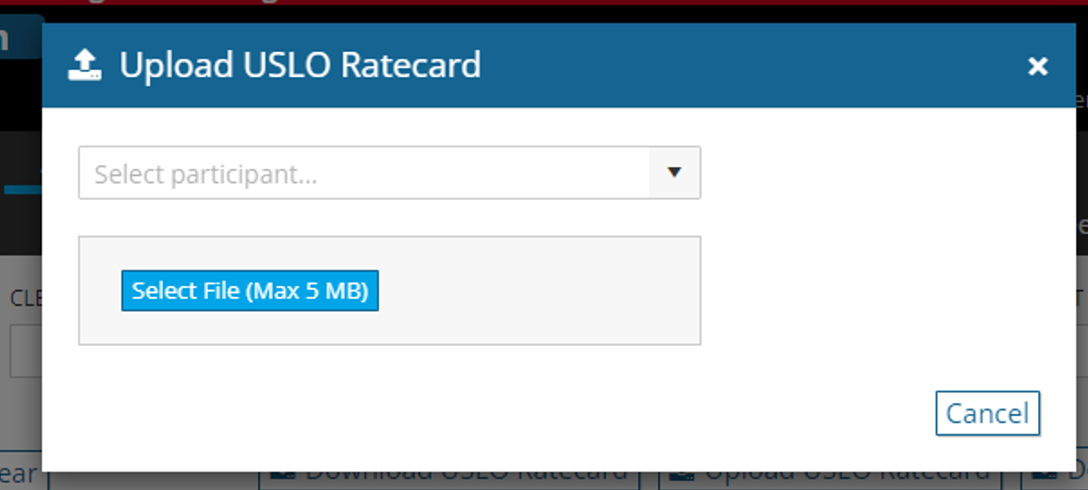 Locate the saved USLO Rate Card on your computer and upload it here.
You can now view your USLO Rate Card directly in the Atlantis Agreements screen by filtering "Agreement Type > USLO"