What is a Cash Adjustment?
A cash adjustment is a direct payment made in Atlantis between two brokers. It is not linked to a specific trade in Atlantis, though it is based on specific Docs Agreement details (accounts, exchanges, participants, etc).
Why Use a Cash Adjustment?
Before a trade has been approved, fees can be amended and trade facts can be updated to cause recalculation. If a trade is approved with the wrong fee, firms need to use a Cash Adjustment. Common cash adjustment use cases include:
Over/underpayment of brokerage fees
Rate issues
Reversals
Bilaterally agreed tax (VAT/GST) payments
How to Submit a Cash Adjustment?
The option to "Post Cash Adjustment" is found on the Summary Screen of Atlantis in the Actions menu.
The following criteria apply when creating a cash adjustment in Atlantis:
Only Receivers can create cash adjustments, and, once created, the adjustments are automatically affirmed.
Once created, the cash adjustment behaves just like a brokerage fee.
Like any fee, it must be Approved by the Payer.
Cash adjustments are placed in the next available settlement cycle based on trade date, i.e. cash adjustment with February trade date is available to settle in March Settlement Cycle
Details must be valid, i.e. if you provide a Clearing Account and an Agreement ID, that account MUST appear on that agreement.
Negative amounts debit the Receiver and credit the Payer; Positive amounts credit the Receiver and debit the Payer
At this time, cash adjustments cannot be cancelled or amended; however, they can be rejected.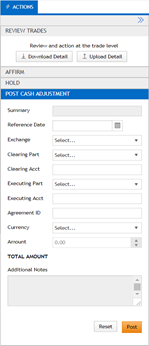 Where to View Cash Adjustments?
The Summary screen has a pre-set "Cash Adjustments" view that will show all cash adjustments currently unsettled in Atlantis. Firms can also create custom views in Atlantis or view cash adjustments in any of their current views. Simply change FEE TYPE in the filters to Cash Adjustment.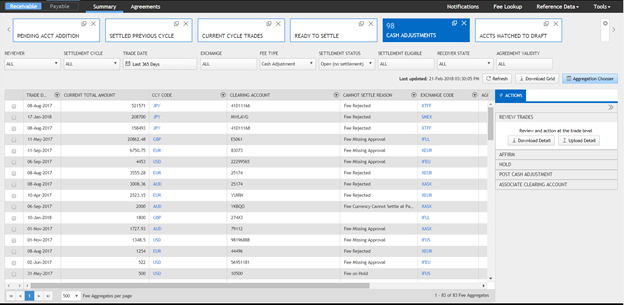 A Quick Fix for Incorrect Fees
Cash adjustments are a convenient way to fix settlement mistakes electronically. Instead of having to send manual invoices and chase payments, firms can settle these discrepancies as easily as normal brokerage.
Remediating Rejected Cash Adjustments
If cash adjustments are reject, they cannot be amended and the cash adjustment will need to be reposted.