Overview
Each month, Atlantis firms review their unsettled trades (from all previous months) and action them accordingly during the settlement cycle. Within each settlement cycle there is a deadline for Receiver actions and a deadline for Payer actions. Trades must be actioned by each party before their respective deadlines in order to settle in the current settlement cycle. Trades actioned after a deadline passes (either Receiver or Payer) will be pushed to the next settlement cycle.
At the end of the settlement cycle, all trades that have been affirmed and approved before the respective deadlines will settle. The settlement cycle close occurs the first business day after the Payer Deadline, at which point trades are marked as settled in Atlantis and settlement records are updated in the Daily Digest file that Atlantis firms receive. Final Trade and Payment files* are also created at this time which Atlantis firms can use to confirm their total credits and debits for the settlement cycle and fund their bank accounts accordingly.
One the settlement cycle closes, Payers have 3 business days to fund their accounts in preparation for their payments being debited. There are then 5 additional business days before Receivers' accounts are credited for the brokerage settled. The crediting of Receiver accounts marks the completion of that settlement cycle, and Atlantis firms then repeat the settlement process each month.
*For a full list of Atlantis Reports please see the Reports section of our Atlantis Help Desk website
Settlement Cycle Countdown Counter
To assist firms in meeting their Receiver and Payer Deadlines, there is a Settlement Cycle Countdown Counter visible in Atlantis. This counter provides a countdown toward both the Receiver Deadline and the Payer Deadline. As a deadline nears, the integers of time decrease as the clock changes color to reflect urgency. By clicking on the counter, firms can also view the full Processing Schedule for the year (further explained in next section). Below you will find a screenshot of the counter as well as a table indicating how it updates.


2020 Brokerage Settlement Processing Schedule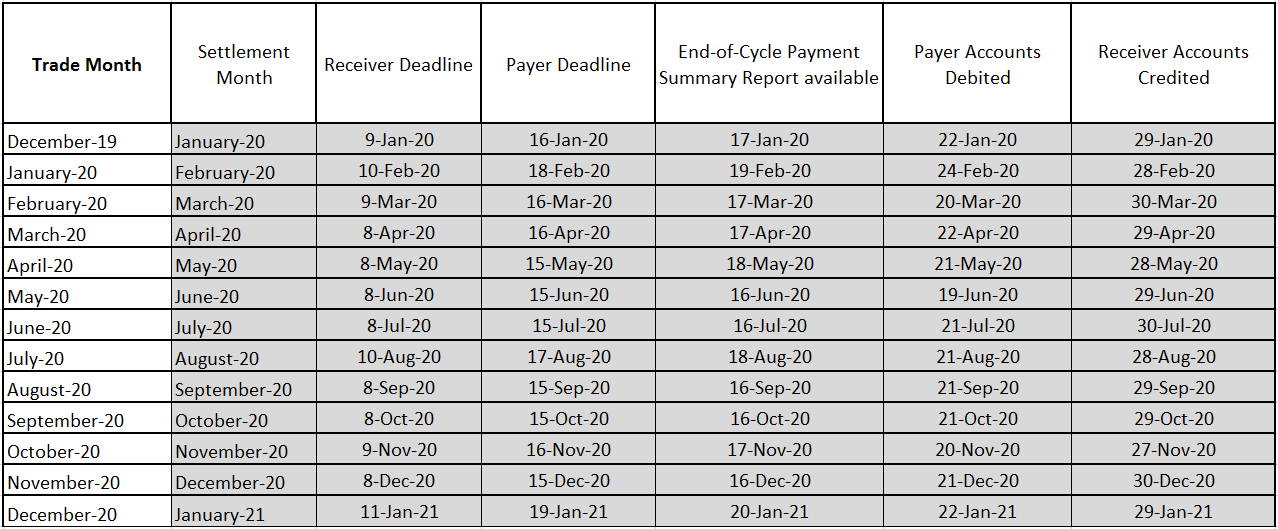 Trade Month – Trades made in listed month (or earlier) are eligible to settle in the subsequently listed Settlement Month
Settlement Month – Actual month in which trades from previously listed Trade Month (and earlier) are eligible to settle
Receiver Deadline – Receiver has until 10 PM of listed date to affirm all trades that they desire to settle in current Settlement Month
Payer Deadline – Payer has until 10 PM of listed date to approve all trades that they desire to settle in current Settlement Month
End-of-Cycle Payment Summary Report available – FIA Tech provides report to each firm detailing what they settled in current Settlement Month (broken out by counter-party, exchange, credit and debit amounts)
Payer Accounts Debited – Date on which Payer accounts are debited by FIA Tech for the amount they owe to Receivers for current Settlement Month.
Receiver Accounts Credited – Date on which Receiver accounts are credited by FIA Tech for the amount owed to them by Payers for current Settlement Month.