Party Admins for Firms may update their API credentials directly within the system, via the workflow below:
REST API - Expired API Key
1. Using a Party Admin profile, log in to https://myapps.fia-tech.com.
2. Once in the system, access the API profile through the UserHub link in the upper right corner of the application.

3. Within UserHub, select the "Admin" link, and then search for the desired API profile: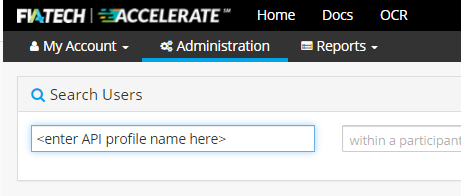 4. Within the API Profile page, select "Actions" > "Generate New Docs API Key", and select "Yes, Generate New Key" in the following confirmation message: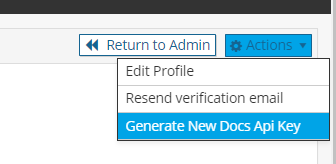 5. The new key will then be displayed and available for use. Please update your systems to use this updated key for your API calls. Firms leveraging vendors for API calls will need to ensure that updated credentials have been implemented in all systems using Docs API connectivity, to support data integration going forward.