Overview
Docs allows for users to download clearing accounts reports with different search & filter criteria such as: Clearing Account Name, Clearing Broker, Customer, Trader, and Clearing Account Type (Customer Clearing Account or FCM Processing Reference)
This is an example of a clearing account report download:

The report can be downloaded in CSV format by following the steps outlined below:
Accessing the Clearing Accounts Library in Docs

Filtering Clearing Accounts in the Library
In the library, users can search for accounts by entering the Clearing Account Number in the search bar.
Users can then filter based on the drop downs available to further narrow down the list prior to downloading the report.

After clicking the download button, the below message will show, and the download will be sent to your Reports Folder found in the upper right corner, next to your user name.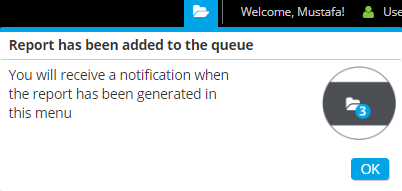 You will need to refresh your browser page for the report to show in the reports folder.
Then, click on the folder, and you can download the most recent reports, or click "See All Reports".