In the clearing account library, the suggested agreement functionality identifies and indicates to Clearing Brokers agreements on which the account may be missing. This information is currently only visible to Clearing Brokers.
Identification of Agreements
Agreements are identified as ones where a clearing account can be added if:
The agreement is in Composition or Executed. Only these states are included to ensure that the addition of the account does not trigger re-approval of the workstream.

The same Clearing Broker and Customer/Trader appears on the agreement as is listed on the account

The account is not already present on a non-Terminated agreement of the same type with the exact same parties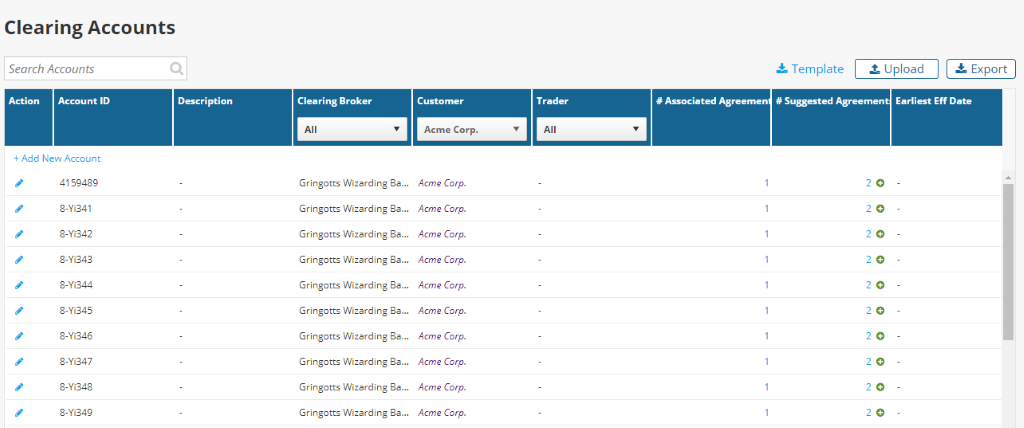 Using the Suggested Agreements Functionality to Add Accounts
Clicking the hyperlinked number will display the suggested agreements within the agreement search. Selecting the "plus" symbol will open up the "Associate accounts to agreements" modal window. Within this modal, you can choose three actions:
Add to All agreements – This will add the account to all suggested agreements

Choose agreements from the Suggested Agreements list – You can choose to only add the account to some of the suggested agreements

Input agreements manually

–

Agreements can be added by agreement ID. Note that the account can only be added to agreements with the same Clearing Broker and Customer/Trader as listed on the account
Once some agreements have been selected, hitting "Save" will add the account to the chosen agreements. A confirmation modal will indicate if the account has been successfully added to the chosen agreements. A report can be downloaded indicating the exact result for each of the selected agreements.