Overview
FCR is available within the Docs application in FIA Tech's Accelerate platform.
The information below shows users how to -
Accessing FCR
FCR is accessed through Docs within FIA Tech's Accelerate platform. To access data available within FCR:
Sign into Accelerate

Select the Docs application link in the top banner of the screen

FCR documents can be accessed and worked on using the below tabs in Docs

Documents
Products & Rates
Users & Parties
System Navigation
Documents Menu
Users can initiate and search FCR documents from the 'Documents' tab under Docs.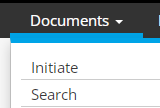 Products & Rates Menu
Users can browse for rate schedules, create new rate schedules, and reference product data and exchange membership information from the Products & Rates tab under Docs.
Users & Parties Menu
Users can manage party settings and create and manage user permissions from the Users & Parties tab under Docs.