The Docs rate schedule builder allows you to edit multiple rows at one time. While Product information cannot be modified using the bulk editor, other information, such as Execution Method and Brokerage Amount can be set using the bulk editor tool. For additional information on how to create and edit a rate schedule in the Docs see our article on Rate Schedule Creation in Docs.
Activating the bulk edit mode
The bulk editor is available in a pane on the right hand side of the rate schedule builder screen. To activate the bulk editor, at least two rate rows must be selected in the rate schedule.
Individual rate rows can be selected for editing by checking the box in the far left column of the screen. You can also use the "Select all" checkbox in the column header to select all rows that are currently in view. If you have applied any filters to the data, only rate rows that are included in the chosen filter will be selected by the "Select all" action. Note that any filters that are applied after a selection is made will result in all rows being deselected.
Prior to making any selection, the editor will appear in an inactive mode, represented by the colour grey on the screen.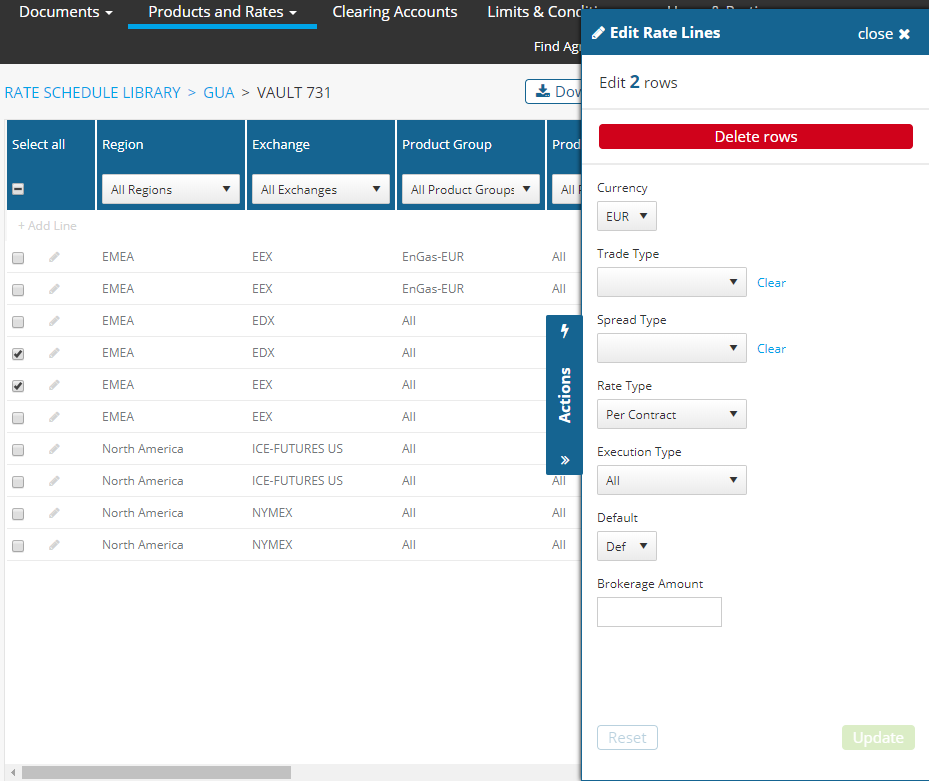 Once active, the editor can be expanded and collapsed by selecting the word "Actions." While the editor will hide some rate row data from view, scrolling horizontally will display the data hidden under the rate line editor.
Available Edit Actions
Not all information in the rate row can be edited using the bulk editor. Below fields are editable using this tool:
Brokerage Currency
Trade Type
Spread Type
Rate Type
Execution Type
Default flag
Brokerage Amount
If the selected rows have all the same value in the available fields, the editor will display the common value. Otherwise the default value for the field will display.
While all fields allow you to update the existing value to a new one (for example, updating the Currency from SEK to NOK), the option to clear existing value and replace with no value exists for the Trade Type and Spread Type field. To clear existing values here, simply select "Clear".
Once some edits have been made, the two actions "Update" and "Reset" will become available. If "Reset" is selected, any changes made in the editor will be reset. Additionally, the selected rate rows can be deleted by selecting "Delete rows". While the system will attempt to apply the other edits only once "Update" is selected, choosing "Delete rows" will result in the immediate removal of the rows from the rate schedule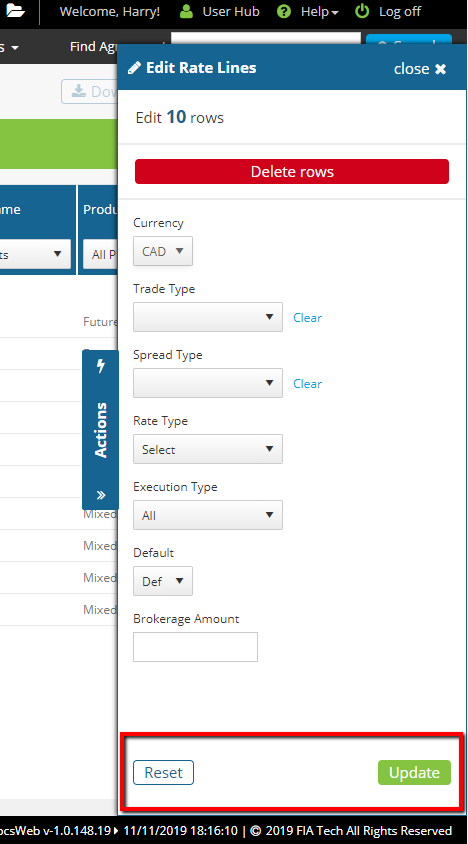 Success or Error when applying an update
Any edits that do not violate rate schedule validations will be applied when "Update" is selected. The success or failure of the update will be denoted with the "Success" and "Error" messages at the top of the page