The Directory tool within Docs provides the ability to search all Broker party contacts for active users in the system, as well as Customer and Trader contacts having provided visibility to a users' entity. The Directory tool is available in upper left side of the screen within Docs, for all users of the application.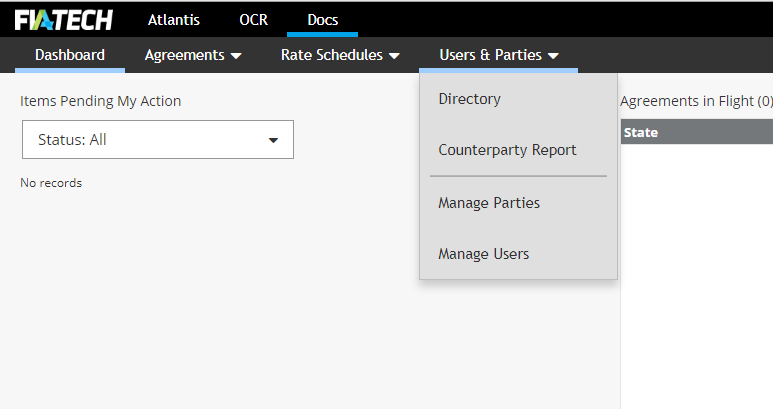 Search Tools
The search fields support searching for contacts by User Name and/or Party. The User Name search may be run based on last name, email address, or a system username. The Party search displays a drop down list of available parties in the system, with predictive text capabilities to display parties based on a partial entry. After entering User Name and/or Party details, select the 'Search' button to display available contacts.

Contacts are listed alphabetically, by first name, and display phone numbers for users have included this information in their contact details. Party Administrators are responsible for maintenance of all user contact information in the system, and may edit through the Docs Manage Users tool. 
Accessing Search Tools through Agreement Page
The User Directory may also be accessed directly from the agreement view page for users related to specific agreements. 

All parties, as well as all users listed in the top overview section of the agreement are hyperlinked to the Directory, and will perform a search based on the selected Party or User.