Docs supports the transmission of agreement data into downstream systems, for processing within Atlantis and GPS.  For Atlantis firms adding new parties to Docs, these settings must be selected in order for Docs agreements to be available for use in brokerage calculations in these systems.  
This configuration is managed by Docs Party Admins, through the Manage Parties page for the entity in question.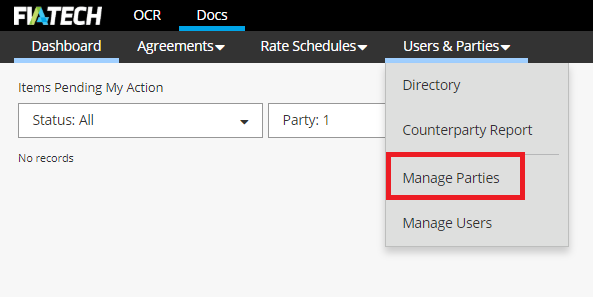 Within the Manage Parties Search tool, search for the desired entity, and select to access the Party page.

Within the Users & Parties > Manage Parties page, an Admin may select "Atlantis" and/or "GPS" under the "Agreement Availability in Downstream Systems" header. 
Once a Docs Admin has enabled the Docs API feed, please notify FIA Tech of this at Atlantis.Support@fia-tech.com.  FIA Tech Client Services will then work with your firm's brokerage contacts to associate this new Docs party to the correct Atlantis Participant(s) and load agreements into Atlantis.