Docs supports parties existing in an Inactive status, preventing these from being added to new or amended agreements. Parties may be set as inactive at the Role level (Customer, Trader, Executing Broker, Clearing Broker) to denote when a party is no longer active in a given role. Parties may be set as inactive due to business reasons, (ex. entity going out of business, party merges) or operational (party cleanup of redundant records).
Inactive parties are denoted by Party Names being displayed in gray font throughout the system.:
Agreement Search:

Agreement Parties: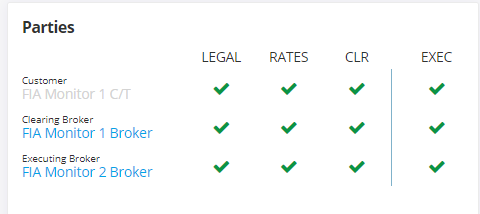 Supported Actions for Agreements With Inactive Parties
Agreements including inactive parties support slightly different actions depending on the state of the agreement.
Executed Agreements:
Add/Expire Clearing Accounts
Add/Expire Executing Accounts
Terminate Agreement
Stale, Composition, Execution Agreements:
Only agreement deletion is supported
Setting Parties as Inactive
Active party status is controlled by FIA Tech Admins, and parties may be set as inactive by request to FIA Tech, as well as through ongoing FIA Tech review. If you believe a counterparty should be set as inactive, or if you believe a party has been set as inactive that should not be, please reach out to Docs.Support@fia-tech.com with information regarding party status for review.