Overview
The Docs Agreement Report may be run from the "Agreement Search" page in Docs, to create a CSV formatted output of Agreement details. This page is accessed by selecting "Documents" and then select "Search Agreements" from the dropdown.

Agreement Search
A user may run a Docs Agreement Report containing all agreements for which are permissioned, by leaving all filters blank, and selecting the "Search" button.

The full agreement list displays in the "Search Results" section.

The "items per page" dropdown defaults to a value of 30, however may be manually updated to change the results displayed per page.

To search for specific agreements within Docs, users may utilize a number of filters, including:
Agreement Details - ID, State, Type
Party Details - Party Name by Role
Dates - Effective, Execution, Initiated, Last Modified, Termination
Accounts - Exec. Account ID, Exec. Account Description, Clearing Account ID, Clearing Account Description
Rate Schedule - Name, Type, Exchange
Download Search Results
From the Search Results, individual agreements may be accessed by selecting the hyperlinked "Agreement ID" field. The Search Results maybe downloaded by selecting the "Download Search Results (CSV)" button in the upper right corner of the page.
This downloaded file includes a full list of agreements if no filters are selected, or a sub-set of agreements according to designated search criteria.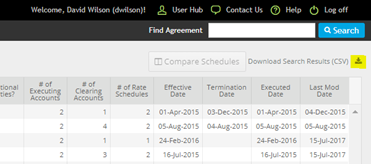 The date and time of the download is captured in the file name.

Filter Search Results Within Excel
A filter may then be applied to the results via the "A-Z Sort & Filter" button.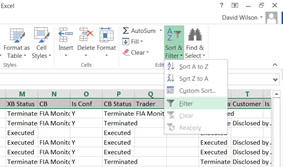 The file may then be filtered as desired to identify specific agreements by various characteristics, including: State, Type, Party Name, Number of Accounts, or Dates.